Sucessufully Lauching a 3800DWT Stainless Steel Chemical Ship
Views: 4623 Author: Site Editor Publish Time: 2016-01-10 Origin: Site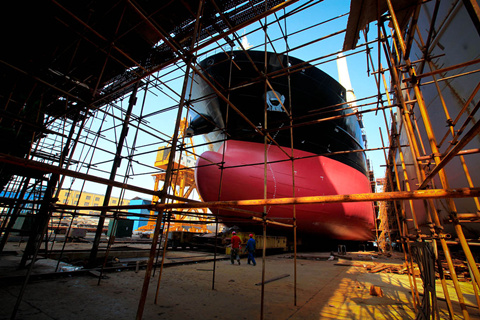 According to introducing, working ship heavy industry as the first domestic shipyard investments a full set of stainless steel machining and automatic welding equipment, stainless steel has the specialized design production process flow of the ship.In the ship building, the use of advanced circular section workshop and total set of process, not only shorten the time limit for a project, also improve the efficacy, quality assurance.

It is understood that the vessels in January 11, 2015, took office on July 1, 2015, January 6, 2016, launched on schedule.The way water hydraulic car and semi-submersible barge launching platform.The ship belongs to a single single oar, double shell chemical tanker, its area is world-wide, can loading of oil products and chemicals category, class ii and class iii.
In addition, the ship's cargo space is divided into 30 cargo tank, two divided into dirty oil tank.Cargo compartment boundary for duplex stainless steel material, including 10 tank can load 1.55 t/m3 density of goods.